STATE COLLEGE – Although Bill O'Brien spent just two seasons as Penn State's head football coach, he brought stability and guided an embattled program through unprecedented times – maintaining the team's winning tradition and providing a bridge to success seen under James Franklin.
O'Brien led the Nittany Lions to a 15-9 record during the 2012 and 2013 seasons – in the wake of the Jerry Sandusky child sex-abuse scandal that hit 10 years ago this fall – before leaving Happy Valley in 2014 to become head coach of the NFL's Houston Texans.
In an exclusive interview with CNHI Sports, O'Brien recalled fondly the coaches and players with whom he shared that Penn State experience – which included two winning seasons despite scholarship limits, player defections, and no hopes of playing in postseason bowl games due to NCAA sanctions.
"In that time at Penn State, which was such a critical time, for that university and that football program, there were just unbelievable people," said O'Brien, who is entering his first season as the offensive coordinator at the University of Alabama. "The coaching staff, the administrative staff, the athletic department staff, but most importantly the players – the players loved football, they loved Penn State, and they were just driven to overcome odds and put a winning product on the field."
Sandusky's indictment on Nov. 4, 2011, led to the termination of longtime coach Joe Paterno and charges against then-athletic director Tim Curley and then-vice president Gary Schultz, and the removal of then-president Graham Spanier, who later faced charges.
During the summer of 2012 – ahead of O'Brien's first season with the program – the NCAA slapped the Penn State football program with penalties that included five years of probation, the loss of 40 scholarships over five seasons, a $60 million fine and a four-year ban on postseason play. The NCAA also vacated Penn State's 112 wins from 1998-2011.
In addition to the penalties, the NCAA in 2012 granted every Penn State player the option of transferring without having to sit out a season at their new destinations.
"Some of the faculty reps in the athletic program that interviewed me for the job were really awesome people, and they tried to be as honest as they could about what might be coming down the pike," O'Brien said. "None of them knew, so when it all came down, we just dealt with it as a team and as a staff."
Rodney Erickson was named university president following the ouster of Spanier, and served through the immediate Sandusky response, retiring in 2014.
"I knew very early on, from my first meeting with Bill, that he was the guy we should hire," Erickson told CNHI. "Bill talked right away about academics, and how important it was for our players to be student-athletes, and how academics was – for most of them – their foundation for life."
O'Brien timeline
While 2012 marked O'Brien's first year as a college head coach, it wasn't his first foray into college coaching. O'Brien was a position coach – tight ends, inside linebackers – at his alma mater Brown for the 1993 and 1994 seasons.
O'Brien was named offensive coordinator at Georgia Tech in 1995, and he remained with the program through the 2002 season before stops at Maryland (2003-04) and Duke (2005-06).
He headed to the NFL in 2007 as an offensive assistant with New England, and was named Patriots' offensive coordinator in 2011 – when New England won the AFC East, went 13-3 and fell to the New York Giants, 21-17, in Super Bowl XLVI. Five Patriots offensive players earned Pro Bowl selections that season.
Penn State officials and a search committee expressed interest in O'Brien for the vacant Nittany Lions' head coaching position in late 2011.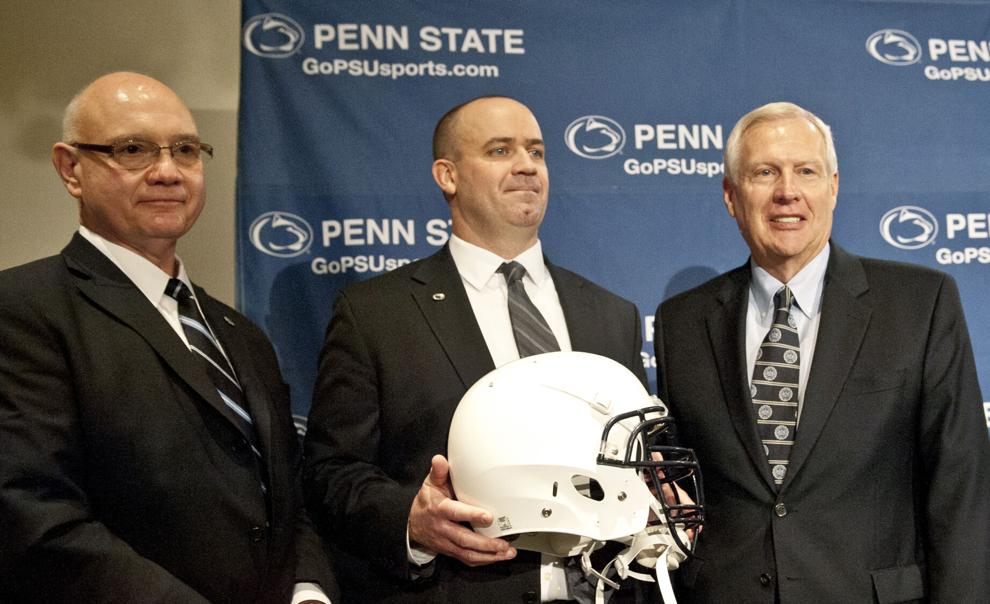 "(Patriots) Coach (Bill) Belichick gave me some time to interview, and I did a Zoom interview with them from Foxboro," O'Brien said. "And then the next interview, they flew me in. I don't remember exactly what I said, I just tried to be myself. I tried to talk to them about my philosophy and what I've learned over the years, and how I felt like we could keep the ship afloat there and lead them through some tough times. …
"I know that there was a good connection between myself and Rod Erickson and (former Penn State trustee and interim athletic director) Dave Joyner, and some of the other people that were on the search committee."
O'Brien was introduced as Penn State's head coach on Jan. 7, 2012.
Meeting O'Brien
O'Brien inherited a team that went 9-4 in 2011 and finished that year under the leadership of interim head coach Tom Bradley following Paterno's firing.
Bradley – Penn State's defensive coordinator – coached the last four games of 2011. The Nittany Lions lost 30-14 to Houston in the Ticket City Bowl to conclude the eventful season.
More than a dozen players from the 2011 team seized the NCAA's life vest and transferred during the summer of 2012, including leading rusher Silas Redd, who departed for the University of Southern California.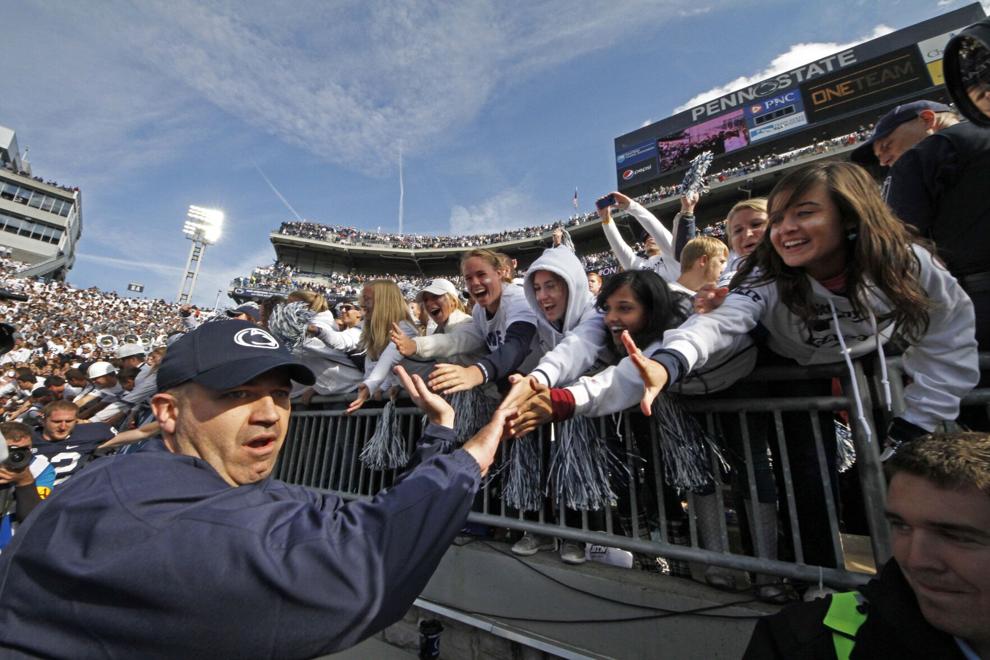 O'Brien and his staff found themselves not only selling Penn State to potential recruits but also to current Nittany Lion players who suddenly had the opportunity to transfer anywhere and play in bowl games and possibly for a national championship – perks Penn State wasn't able to offer because of the sanctions.
"I said, 'Look, this is a tough time,' " O'Brien said of the conversations he had with Penn State players. "Some of these kids could have gone anywhere. They could have gone to Alabama, Notre Dame, Georgia, anywhere. I just said, 'We're going to coach. We're going to play meaningful football games, and eventually, the sanctions will be over and you'll have a chance to play in bowl games.
"This is a great program, and you're going to get a great degree. Those were the things that I reiterated to those parents and those kids over and over. I just tried to be as honest and straightforward as I could be."
Penn State took the somewhat controversial step of putting players' names on the backs of their jerseys – a salute to those who chose to stay.
Erickson, like O'Brien, knew the difficult task the new Nittany Lions coach undertook in trying to sustain a program despite major challenges.
"I have great admiration for the coaching staff and the players who hung in there and stayed with us and were able to continue Penn State's winning ways despite the very, very difficult sanctions," Erickson said.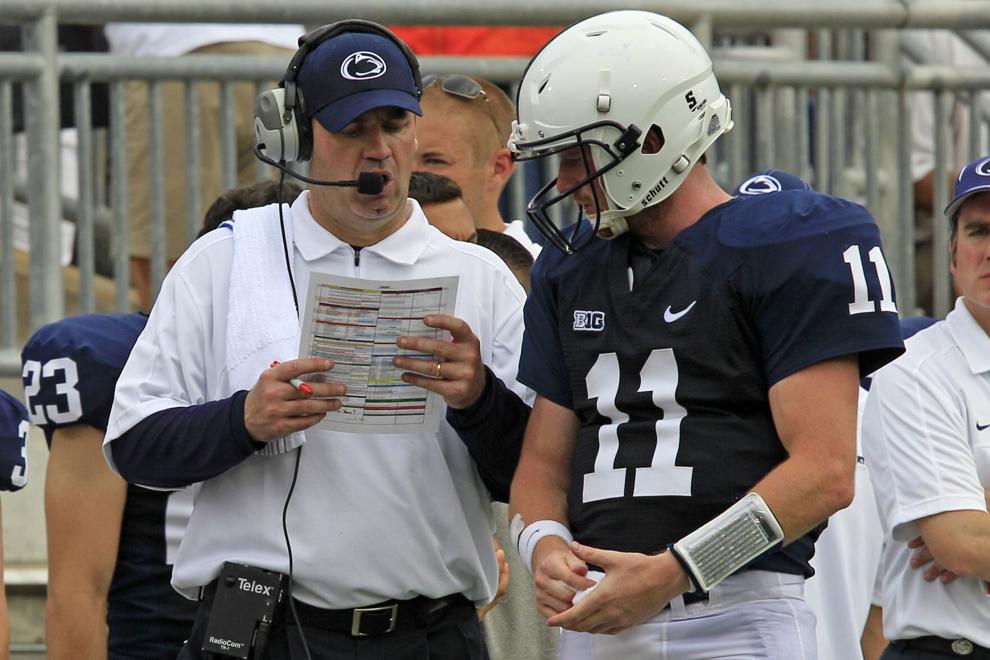 Selling the pitch to former Nittany Lion quarterback Matt McGloin wasn't difficult. The former walk-on from Scranton had thrown for 1,571 yards and eight touchdowns against five interceptions in 2011. McGloin saw what O'Brien and New England quarterback Tom Brady accomplished together in New England, and – ahead of his senior season – he didn't waste any time sharing his excitement and his eagerness to learn with his new coach.
"I asked him for a playbook immediately," McGloin said. "I was just so excited about the opportunity to be able to work with somebody like Bill O'Brien, somebody who had a ton of experience as a quarterback guy and as a play-caller. With how successful he was in New England working with Tom Brady and everything like that, for a guy like me you're just so eager to learn and become a better quarterback, a better leader and a better player."
Penn State rising senior linebacker Michael Mauti and other Nittany Lion players were already well-aware of the passion and intensity O'Brien was bringing to the program.
During a New England-Washington game in 2011, O'Brien and Brady shared a heated exchange following an interception in the fourth quarter.
"We had all done our YouTube (watching) on him, and we were a little bit nervous just given the fact that he was probably the only guy who could blow up on Brady like that on the sideline," Mauti said with a laugh. "When he walked in the first time with his full-length pea coat from Boston, I just remember that visual.
"Everybody had a ton of respect for him for what he had done in the (NFL), and we were ready to go to work with him."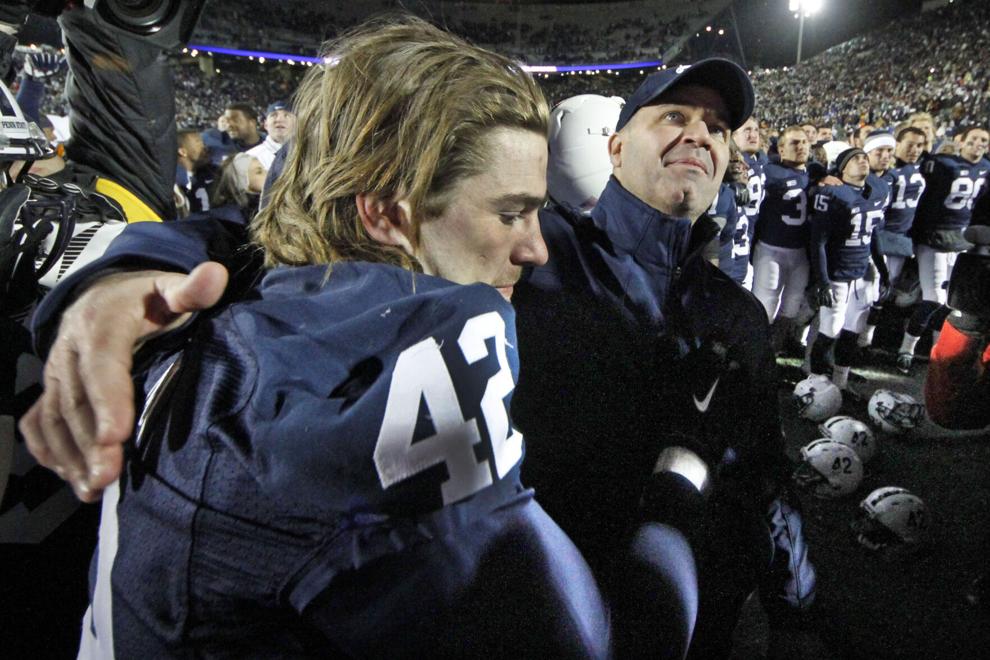 2012 season
Penn State began the O'Brien era against Ohio University before a home crowd of 97,186 at Beaver Stadium. The Nittany Lions lost, 24-14. The following week saw Penn State drop a 17-16 road contest at Virginia.
The close loss to Virginia was followed by a five-game win streak in which the Nittany Lions scored 30 or more points in four contests, including a 39-28 win against then-No. 24 Northwestern.
Penn State went on to win three of its final five games, capping that season with a 24-21 home overtime victory over Wisconsin to end the year 8-4 overall and 6-2 in Big Ten play.
"We had some really good wins," O'Brien said. "We were able to win eight games … We felt like we could have won 10 games, but we didn't. We won eight, and looking back, the experts said we weren't going to win any. So to win eight was pretty good."
McGloin finished the season with career-bests in passing yards (3,271), touchdowns (24), completions (270) and completion percentage (60.5). His 7.3 yards per attempt was also a career-high.
Despite suffering a season-ending injury against Indiana in the second-to-last game of the season, Mauti ranked second in total tackles with 96, including a team-high 49 solo stops. His three interceptions in 2012 paced Nittany Lion defenders.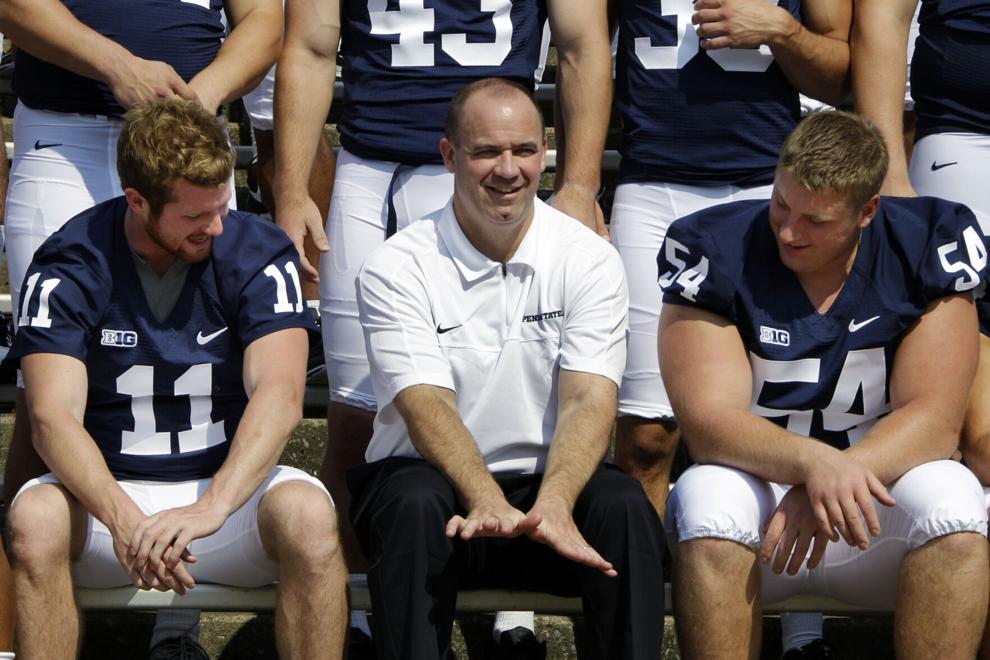 Penn State ranked second in the Big Ten in scoring defense, allowing 19.1 points per game, and finished fourth in the conference in total offense (417.5 yards per game).
The Nittany Lions' 273.2 yards passing per game trailed only Indiana, and the defense's 34 sacks led all Big Ten teams.
Individually, McGloin received the Burlsworth Trophy – awarded to the nation's top former walk-on player– and was an honorable mention all-Big Ten selection.
Mauti claimed the Butkus-Fitzgerald Linebacker of the Year Award in the conference, and was a first-team All-Big Ten selection and an ESPN first-team All-American selection. Thirteen Nittany Lions from the 2012 team earned Big Ten honorable mention or first-team honors.
O'Brien was named Big Ten Coach of the Year, Maxwell Coach of the Year, AT&T-ESPN Coach of the Year – and was honored with the Paul "Bear" Bryant Award.
"I think the biggest thing that always sticks with me is the chemistry of that 2012 team, and the love of football and the care for each other," O'Brien said. "That was a little bit of a perfect storm. We had a really good, strong, caring coaching staff combined with some really good, tough, caring football players. I'm not saying it was the perfect team – because we were 8-4 – but it was perfection when it came to chemistry and hard work and toughness. …
"There was really good leadership in that team. Coming up will be my 29th year in coaching. That year, along with some other years in coaching, have taught me a lot, but that year taught me a ton."
Moving forward
O'Brien and Penn State went 7-5 in 2013, closing out the season with a 31-24 road win against then-No. 14 Wisconsin.
Two months later, he departed to become the head coach of the Houston Texans. He remained with Houston – where he compiled a 54-52 record – through the 2020 season.
Penn State hired James Franklin to replace O'Brien. Franklin, a Pennsylvania native, is set to enter his eighth year at the helm. He has guided the Nittany Lions to a 60-28 record, winning the Big Ten Conference championship in 2016.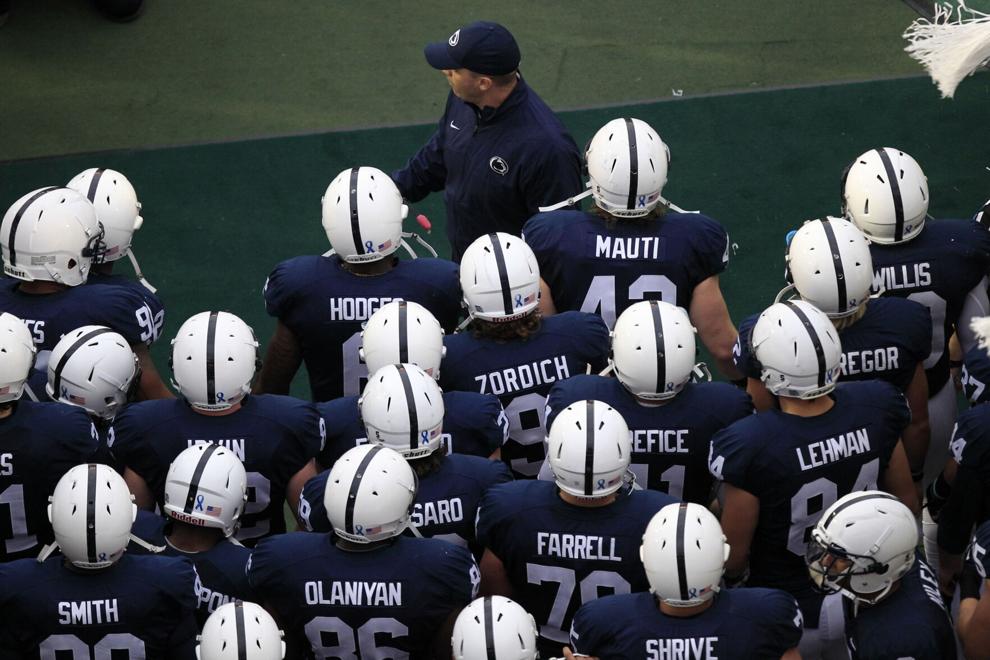 Of O'Brien, Erickson said: "In many ways he kept the program moving forward, and provided a positive platform for James Franklin to come in. Clearly, we would probably not have been able to attract Franklin to Penn State if we had not been in that kind of a position when Bill left."
Franklin and O'Brien coached together at Maryland in the early 2000s.
O'Brien, Mauti and McGloin all said chemistry is what held the 2012 team together, and the camaraderie shared within that group formed unbreakable bonds that have stood the test of time.
"One thing that was special about that group of guys and the coaching staff was everybody just accepted their role whether it was big or small," McGloin said. "Whether somebody was a quarterback or somebody was a linebacker or somebody was a lineman, or heck, if somebody was just a special teams player, everybody just wanted to be a part of that year. They wanted to stay, and they wanted to represent Penn State. …
"We ignored the noise. It became an us-against-the-world mentality. As long as we had support from our families, support from former players, support from the alumni, support from the students … That's all that mattered to us."
Mauti said: "In terms of a group of guys that we've gone through it together, I can pick up the phone and call any of those guys and it's just like we had never left – especially that core group of seniors.
"I have been through a lot of seasons with football at the college level and the pro level. Nothing, I think, could match the intensity or match the situation that was that season. You go through that kind of adversity together, it's unprecedented."